Whether you're looking to set up a podcast from scratch but don't know where to start - or an existing podcasting ready to step up to the next level - I'm your man.
I've helped loads of people get their shows off the ground, and worked with dozens of brands to create a unique podcast for them - a powerful form of audio marketing.
My services range from simple consultations to help make those all-important decisions, to editing
packages, right through to full bespoke end-to-end services.
Drop me a line to set up a quick chat so we can discuss the best next step for you, whether you're an individual, or a business.
Email james@jae.media to find out more or to arrange a free consultation chat. These are all example services - I ALWAYS tailor a recommended package to your exact needs after we've chatted.
---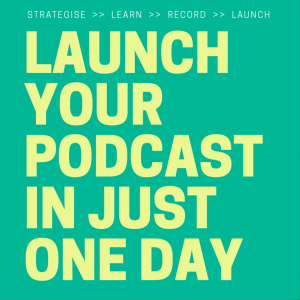 launch your podcast in just one day
Yep, you read it right. With my launch package you're up and running in a single day.
We start the day with a strategy session - establish your aim, figure out the right idea for your show, decide on a name, sort out your format, how you'll record it, draw up a recording schedule - and loads more... basically everything you need to get done.
Then there's the training section, where you can learn about whatever parts of podcasting you want. It's entirely tailored to you.
Then we move onto the practical section. Together, we'll record a trailer for your show to tell the world all about it. I'll edit and mix it. We'll set up your podcast hosting (including the first month free) and upload the trailer, then submit your show to Apple Podcasts and Spotify.
All done, sorted, in a single day. To find out more, drop me a line here
---
strategic consultations
Wherever you are on your podcasting journey, my years of experience in the broadcast world can help.
We can arrange a professional radio-style aircheck review of your most recent episodes (like I used to do with my presenters when I worked in commercial radio) or perhaps focusing on the long-term direction of your podcast, or you might just want to hit 'reset' and rethink the whole thing. No problem. To find out more or to book, just drop me a line
fast-track launch concierge
The exciting thing about launching a podcast is recording episodes and having fun.
The less exciting thing is setting up your hosting account, completing lots of settings, uploading artwork and audio files, and then submitting your show to platforms like Apple Podcasts and Spotify. Sure, I can guide you through it - but if you just want things done, my Fast-Track Launch Concierge service is perfect.
I'll take care of all the boring behind the scenes stuff in just a few hours (where it may take you days) and with a guarantee there won't be any lingering issues or tick box that's been left unchecked delaying your launch. Find out more by dropping me a line here
editing services
Some people love editing their audio and putting together their episode. Some people love the recording bit and hate the fiddling editing which comes afterwards. Thankfully, I'm in the former category.
If you need to free up some more of your own time, or editing's just not for you - I have a full set of editing services available, ranging from straight-forward simple editing, right through to full episode packages including uploading, writing show notes and more.
I believe in doing editing 'the way it should be' - using a pair of ears, not a computer bot. I carry out all editing work to a specification agreed between us of what sound you're after. To enquire or have a chat about editing, just drop me a line
---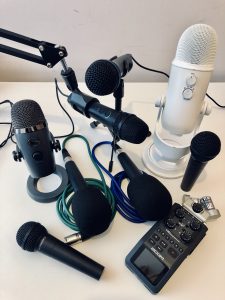 mobile studio production
I have a full mobile studio set-up which I can bring to you to record your episodes - either one by one, or a batch recording session of a few episodes in one go. Of course at the moment, this can be a little tricky due to Coronavirus restrictions, but it can be safely done with social distancing, depending on the space available - the best thing to do is drop me a line to discuss.
remote (virtual) production
As times have changed, so have my production services. I now offer a full remote production option - all done virtually. I'll set up your recording, organise the online tech for it, sit in on the recording / interview itself to make sure everything goes smoothly and deliver the audio in high quality to you afterwards.
All production can also be combined with discounted editing for a full remote episode service. You can find out more by sending me a quick message
---
monthly packages
Any sort of combination of the above can be turned into a bespoke monthly package for you with some healthy discounts.
Say you want some remote production, with editing, and a consultation every fortnight to review how the show is going and agree some action points for you to work on? That's fine. Or you're doing a daily show which you'd like me to edit and upload is weekly batches, with social media posts for each episode?
Whatever your requirements, I'll put together a perfect monthly package for you. Let's get the ball rolling, drop me a line now